At Davis Family Orthodontics, we understand that orthodontic treatment can raise many questions. Below, we've provided a helpful Orthodontic FAQs list about orthodontics, treatment options, and more.
Common Orthodontic FAQs
What is Orthodontics?
Orthodontics is a specialty of dentistry that works on diagnosing, preventing, and treating dental problems pertaining to alignment, occlusion, and jaw formation. As a dental specialty, orthodontics focuses on aligning your bite and straightening your teeth, especially if you have crooked, twisted, overlapping, or gapped teeth.
Who are Orthodontists?
An orthodontist is a dentist who has received two to three years of additional training and experience in the field of orthodontics. While dentists focus on broader concerns with oral health, orthodontists focus on aligning your bite and straightening your teeth, often providing treatments such as braces. However, orthodontists have many treatment options besides braces, including space maintainers, aligners, jaw repositioning appliances, and lip and cheek bumpers.
What's the Best Age to Visit an Orthodontist?
The American Association of Orthodontists recommends that children visit their first orthodontists around the age of seven. However, orthodontic treatment isn't exclusive to children and teenagers, as about one in five patients who see orthodontists are adults over 21.
How Can I Take Care of My Teeth While Wearing Braces or a Retainer?
Maintaining good oral hygiene while undergoing orthodontic treatment, including brushing your teeth after every meal and flossing once a day, is essential. However, your orthodontist will provide additional instructions for you to help protect your teeth during your orthodontic treatment and recommend tips such as using orthodontic flossers, removing your retainer while eating, and avoiding sticky, sugary foods that could stick to your braces.
What are Braces?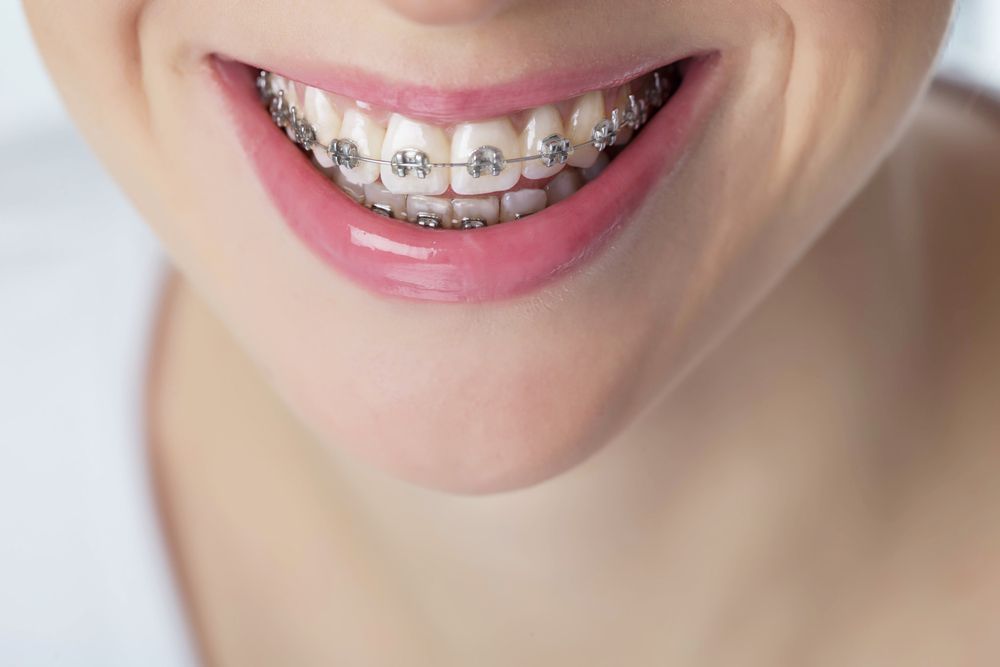 Braces are an orthodontic treatment that works to align and straighten your teeth over time through gradual pressure placed by the archwires and brackets. They're used by orthodontists for a variety of reasons and help correct tooth problems with your teeth, such as overcrowding and gapping, when your teeth are out of alignment.
If I Receive Braces, How Long Must I Wear Them?
The duration of your treatment depends on various factors, as every smile is different. However, treatment can take anywhere from six months to over 30 months, but on average, treatments take about 22 months to complete.
Does Getting Braces Hurt?
Getting braces doesn't hurt – the whole point of orthodontic treatment is not to cause pain! However, during your initial time getting and using your new braces, it's common to experience slight discomfort along your teeth, cheeks, and gums as your mouth gets used to wearing braces.
How Often Do I Need to Care for My Braces?
It's important to care for your braces every day, brushing your teeth at least three times daily to ensure your mouth is healthy and clean of debris. It's also recommended to floss daily to get in between the braces when your toothbrush can't reach it with orthodontic floss. When visiting our practice, our team can show you how to brush and floss your teeth once your braces are placed.
If I Have Braces, Do I Still Need Dental Checkups?
It's highly recommended to visit your orthodontist every six months for cleanings and checkups, as braces can trap food, cause bacteria to build up, and, when left untreated, can cause cavities and gum disease. Your orthodontist will work with you to ensure your teeth stay clean while wearing braces.
Will Wearing Braces Interfere with My School Activities?
In many ways, wearing braces will require some adjustments. Braces shouldn't prevent you from participating in any school activities, but if you play a contact sport, it's highly recommended that you wear a mouth guard to protect your teeth and braces from damage.
How Do I Schedule My Next Appointment?
Just contact our practice by calling us! Our front desk staff will be delighted and happy to help you schedule your first or next appointment. If you are a new patient, let us know, and we will provide you with the information you need to help you schedule your first consultation and experience our care at Davis Family Orthodontics.