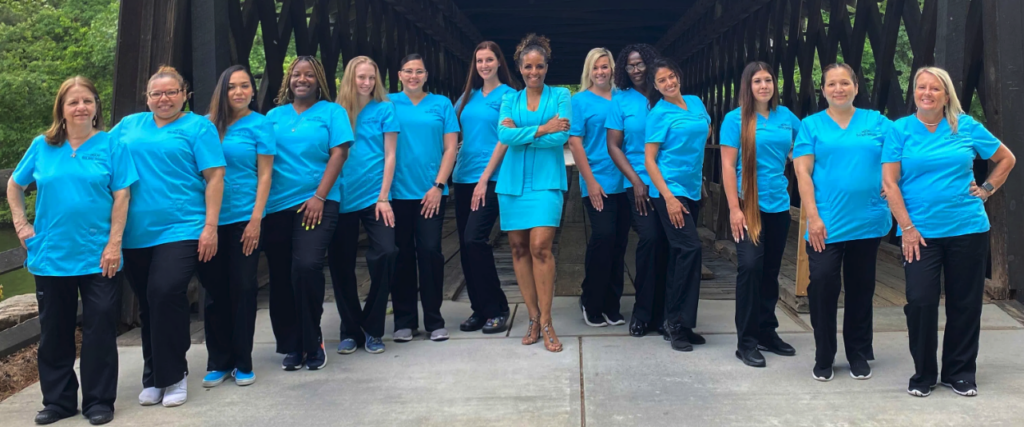 Brianna
ORTHODONTIC ASSISTANT
"I like welcoming everyone to the practice and helping people get started with treatment. I also like taking X-rays."
Brianna works in our front office, greeting patients and families as they arrive, assisting with paperwork, and answering the phones. She also takes X-rays as part of assembling patient records. Currently living with her mother and siblings, Brianna has a few pets and, in her free time, loves to roller skate.
Gabriella
front desk
"I enjoy interacting with our patients and seeing how they change as they get their new smiles."
Gabriella is here to assist patients and families and, among her duties, accepts and records payments. She likes working with a super friendly team and doctor who make the office a fun place for her and, more importantly, our patients.
Jennifer
TREATMENT COORDINATOR
"I enjoy meeting our new patients and their families as they start the orthodontic process. It's fun to follow each patient's progress to their new smile."
Jennifer assists those new to our practice, answering questions about orthodontics, reviewing the patient's treatment plan, and verifying insurance. She is happy to work alongside a friendly and helpful team in a positive environment where we keep our patient smiling. A relative newcomer to Atlanta, Jennifer enjoys discovering new places, sightseeing, and road trips with her partner to other states.
Melissa
OFFICE MANAGER
"I appreciate all the interaction with our patients and families, and especially like watching patients' smiles change."
Melissa keeps the practice – all four locations – organized and running smoothly, handling management and daily operations. She finds Dr. Davis to be the best person to work for, as the doctor treats her staff, and patients, as family. Likewise, the practice team members are all friends, dedicated to one another and to our patients. Away from the office, Melissa enjoys time with her family: husband (and love of her life) of almost 40 years, their four kids, seven grands, one great-grand, and a fur baby. When they can get away, the family enjoys the mountains and the beaches.
Vangie
PATIENT COORDINATOR
"I am a people-person so I love meeting and talking with our patients and their families."
Vangie excels at providing superior customer service and is in charge of scheduling patients. She appreciates that Dr. Davis is understanding, considerate, and treats everyone with respect. She also loves that the team functions as a team, supporting each other as we care for our patients. Vangie and her husband met when they were 15 and 16; they have been married for over 40 years. The couple has two beautiful daughters and four adorable grandchildren.
Ginesse
TREATMENT COORDINATOR
"I enjoy meeting different types of people and making them feel comfortable when they step into the office. It's fun to get patients signed up and excited to start treatment with us and see them leave here with a beautiful smile!"
Ginesse ensures that patients understand their treatment plan including the benefits of treatment, insurance benefits, financial arrangements, and appointments. She comes to work every day with a great attitude! Ginesse enjoys spending time with family and friends, trying new foods, and traveling!
Selena
STERILIZATION/FRONT DESK
"I love seeing the progress in our patients' teeth. It amazes me how their teeth get closer to their perfect smile at each appointment!"
Selena was a patient of Dr. Davis before she started working here. After realizing her interest in the dental field, Selena started school to become a dental hygienist! She loves being a part of our office family. During her free time, Selena enjoys going out and trying new restaurants. Her favorite thing to do is stay home and watch a series or movie.
Dariana
SCHEDULING COORDINATOR
"I love seeing every patient's beautiful smile, and helping them the best I can. I also enjoy working alongside all my co-workers!"
Dariana makes our patients' appointment scheduling a breeze! Since starting here in 2021, she has enjoyed the variety that each day brings here at Davis Family Orthodontics. Dariana is a dog mom of two and very family oriented. She loves swimming so much that she was on the swimming team in high school. She also loves watching the Atlanta Braves!
Julie
FRONT DESK
"I feel so lucky to work with such a great team of people! We're all smiles here!"
Julie assists patients with all things having to do with the administrative aspect of treatment, including scheduling appointments and processing payments. What she loves most about Davis Family Orthodontics is that it's truly like a family. Julie and her husband are renovating a 1918 Craftsman house. Their furry kids keep them busy as well! Julie savors every moment in the kitchen, especially when she's baking.
OUR CLINICAL STAFF
Well-trained, skilled, and personable, our clinical team members assist Dr. Davis as she straightens your teeth. Handling everything from initial clinical records to chairside assistance, direct patient care, and education and motivation, our clinical staff loves what they do. What could be more rewarding than building friendships while transforming smiles?!
Andrielli
ORTHODONTIC ASSISTANT
"I like attending to and taking care of our patients' needs and seeing new appear."
Andrielli assists Dr. Davis with installing and removing dental brackets, braces, and retainers. She loves being part of a friendly and supportive team that shows concern for our patients' wellbeing and comfort. A native Brazilian, Andrielli and her American husband share their lives with a young puppy. In her spare time, Andrielli enjoys listening to music, especially gospel, and attending church. One of her goals is to do mission work with children one day. Another of her goals? Becoming a dentist and doing implants!
Merly
DENTAL ASSISTANT
"I enjoy getting to know patients and seeing how they change with treatment."
Merly assists Dr. Davis with a range of orthodontic procedures. Having practiced dentistry in another country, before coming to the US, she excels at motivating patients to keep their smiles healthy and clean.
Stephanie
CLINICAL SUPERVISION
"I like all of the patient interaction and seeing how each patient grows and changes as their new smile appears."
Stephanie works in the clinic where she oversees patient flow. She keeps everyone on track so patients are seen on time and not rushed through their appointments. Stephanie enjoys the family atmosphere of the practice: Dr. Davis, the staff, and our wonderful patients and families. When she's not at the office, Stephanie enjoys time with her spouse and their young teenage son.
Ashley
ORTHODONTIC ASSISTANT
"I love being a part of our patients' journey from beginning to end and knowing that I was a part of their new smile and confidence."
Ashley is originally from California and moved to Georgia in 2022. A seasoned orthodontic assistant with more than ten years of experience, she loves her career and enjoys making all of our patients comfortable and welcomed when they sit in her chair. In her free time, Ashley enjoys spending time with her family, attending concerts, drawing, and shopping.