At Davis Family Orthodontics, we believe that orthodontic treatments are for everyone, including for adults. Statistics have shown that one in five patients receiving orthodontic treatment over the age of 21. There are many reasons why adults are now choosing orthodontic treatment, and our practice offers a wide range of orthodontic treatment options to help them achieve the healthy, beautiful smile they deserve.
Reasons Why You Should Consider Orthodontic Treatment
Many adults are now considering orthodontic treatment as the best way to care for their oral health, as orthodontics has come a long way in helping patients of all ages receive the treatments they need. Some reasons to consider getting orthodontic treatment include the following:
A bad bite or malocclusion causes the teeth to fit together improperly
Crowded or spaced teeth may lead to tooth decay or gum disease
Abnormal jaw pain or pressure caused by crooked teeth
A desire for a healthier mouth and a more confident smile
Our Treatment Options For Adults For Orthodontic Treatment
Many adults often shy away from orthodontic treatment because of the common perception that adults can't receive it, when in fact it is not true! Many advancements have been made to help adults receive the orthodontic treatment they need. Our practice offers a wide range of comfortable, aesthetic orthodontic treatment options that can be customized and adjusted to meet your specific needs, including: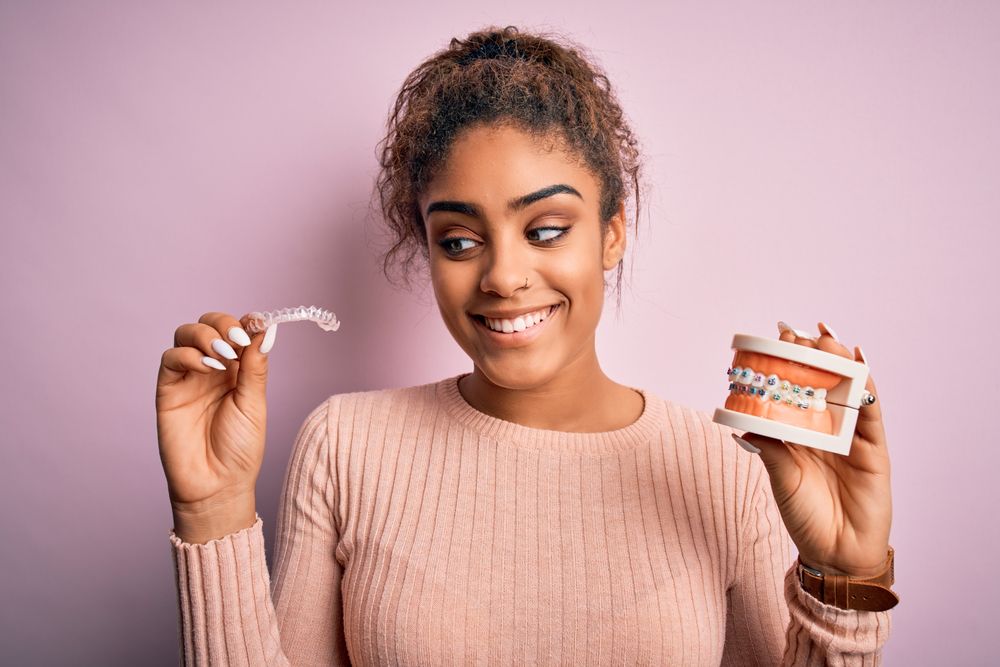 The Difference Between Adult, Teen, and Children Orthodontics
When treating children and teenagers, orthodontists often consider their jawbone development as they are still growing. On the other hand, adults' jawbones stop growing, requiring advanced techniques such as orthognathic surgery to align them. In many ways, adult orthodontics requires additional treatments and considerations to perform, including:
Gum or bone loss (periodontal disease): adults are more prone to gum recession or bone loss due to advanced periodontal disease.
Worn or missing teeth: teeth can become worn down and shift into different positions over time, leading to a bad bite and increasing the possibility of gum disease.
Incomplete orthodontic treatment: many adults received some orthodontic treatment as a child or teen but often never completed their treatment.
However, orthodontic treatment can be an excellent tool for improving your oral health, as straighter teeth are easier to clean when flossing and brushing, helps reduce the risk of dental problems, and can boost your self-confidence.
Why Choose Orthodontic Treatment from Davis Family Orthodontics?
At Davis Family Orthodontics, we understand that adults require different levels of attention and care, and we are committed to providing personalized treatment that meets your needs. Contact us today to learn more about the benefits of adult orthodontics and schedule a consultation. Considering your busy schedule, we will work with you to ensure each office visit is as convenient as possible.